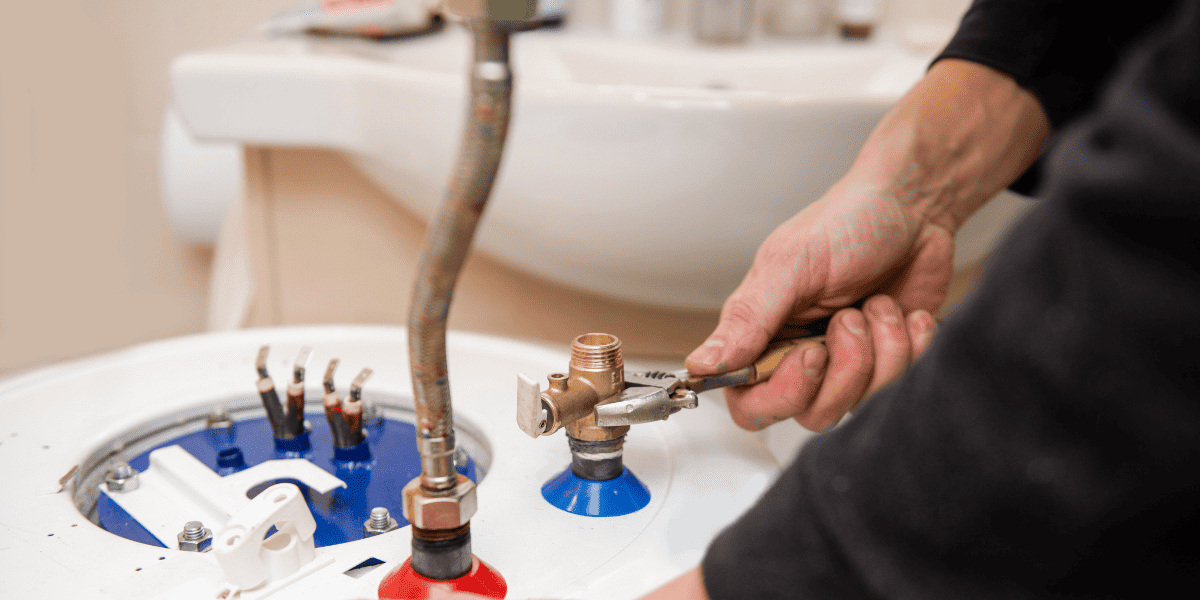 Dependable Water Heater Repair
in Towson, MD
Water heater hiccups can catch anyone off guard, regardless of your morning routine. From bustling families prepping for a busy day to solo dwellers cherishing their quiet mornings, a malfunctioning water heater can put a damper on anyone's day. Leaking water heater? Absent hot water? Or that nagging feeling it might be time for a water heater replacement? These are common woes we all face. But, good news: Hardy Plumbing is here in Towson, MD, to put those worries to rest. Whatever your water heater repair needs are, whether it's same-day water heater repair or water heater maintenance, consider them sorted with our expert touch.
Common Signs Your Water Heater Needs a Repair
How do you know when your water heater's throwing subtle hints your way that it needs a little TLC? Here are some of the surefire signs.
That Not-So-Warm Embrace: Remember those glorious days when you'd turn on the faucet, and a cascade of hot water would greet you? If now all you're getting is a lukewarm handshake or an outright cold shoulder, your heater might be waving a little red flag.
A Tank With a Tale: Strange noises from your heater? If it's starting to sound like a popcorn machine or a grumbling old man, that's not a secret language. It's your water heater's way of saying, "Hey, something's up in here!"
Funky Water Vibes: Crystal clear and fresh-smelling water is what we all expect. If your water's turning a weird shade or has a peculiar odor, it's like getting a text message from your heater: "Help, please?"
Puddle Mysteries: Spotting water around the base of your unit? It's not just your heater being messy or having a little cry. It's more like a silent alarm bell, signaling a potential leak.
Sneaky Energy Bill: Ever scratched your head wondering why your energy bill's been climbing, even when you've been as energy-conscious as ever? Your water heater might be working overtime, and trust me, it's burning a hole in both its energy and your pocket.
Our Water Heater Services
From those refreshing morning showers to ensuring your dishes are sparkling clean, a reliable water heater is crucial. That's why we offer comprehensive water heater services tailored to meet your specific needs.
Encountering irregular water temperatures or noticing your water heater is leaking? Our skilled technicians can diagnose and remedy the issue promptly, ensuring you're not left in the cold.
Water Heater Installation
Whether you're upgrading your current system or setting up a new property, our team will guide you in selecting the best water heater for your needs. We offer installation services for a range of models, ensuring efficiency and reliability from the outset.
Regular maintenance is the key to extending the lifespan of your water heater and ensuring it runs at its best. Our maintenance services include routine checks, cleaning, and adjustments to prevent potential problems and keep your system operating efficiently.
What to Expect with a Hardy Plumbing Repair Visit
Got a water heater issue that needs attention? Here's why you should choose Hardy Plumbing to do the job.
A Warm Hello: Right from the get-go, you'll feel it. That genuine friendliness on the other end of the line? That's us! Imagine calling a longtime buddy who's always thrilled to help – that's the Hardy Plumbing vibe from the very first 'Hello!'.
More Than Just a Quick Look-See: When we show up, we're not just there to give a cursory glance and call it a day. No siree! We roll up our sleeves and dive deep. It's like bringing in a detective who's bent on solving the grand mystery of your water woes. We're all about finding the why behind the what – the real root of the problem.
Straight Talk on Costs: Ever been to a place where the price feels like a riddle wrapped in a mystery? Not here. At Hardy Plumbing, we're as clear as a summer's day. No sneaky add-ons, no confusing jargon. Just plain, honest numbers. Because let's face it, nobody likes an unexpected curveball, especially when it comes to their wallet.
The Need for Speed (But Done Right!): We get it. A faulty water heater isn't something you want to pen into next week's diary. You want it sorted, and pronto! With us, you're not just getting speed; you're getting the expertise that ensures it's fixed right, lickety-split.
The next time you think of a plumbing repair, picture this: a team that's part friendly neighbor, part detective, and all parts professional. That's the Hardy Plumbing way!
Turn The Water Heater Back Up with Hardy Plumbing
Little hiccups, like water heater repairs, shouldn't stand in the way of your comfort. With Hardy Plumbing by your side, consider these hiccups just tiny blips in your day. So, if your water heater's giving you the cold shoulder, or just singing a tune you don't quite recognize, don't hesitate to reach out!
Ready to restore warmth and peace to your home? Give Hardy Plumbing a call at (443) 707-2969 to schedule an appointment.
Contact the plumber or plumbing company to schedule a service call. Be prepared to provide help about the problem.
Looking For A Local Plumber In Towson, MD Contact Us Now!