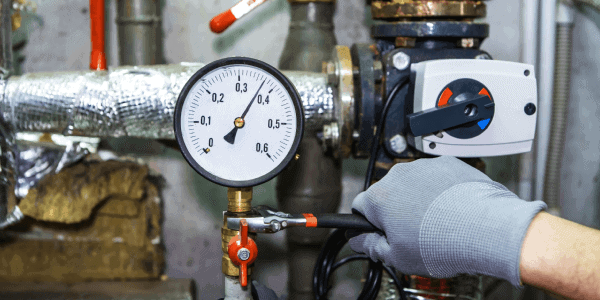 Gas Line Plumber
in Towson, MD
Ever been in the middle of cooking a delicious meal when—uh oh—the stove flame flickers out? Or maybe you've planned a cozy night in during a chilly Towson winter, only to find your heating system isn't warming up? The culprit? Often, it's an unreliable gas line.
We rarely stop to think about what's running behind our walls, but when there's a glitch, it hits home—quite literally. From that savory stir-fry on your stove to the snug warmth during cold nights, a dependable gas line makes all the difference. If you've ever scrambled to search "gas line plumber Towson MD" or "gas plumbers near me" amid a gas hiccup, you know that not all heroes wear capes. Some wear tool belts.
That's us at Hardy Plumbing. We aren't just another name that pops up when you're frantically searching for gas plumbers. We're right here in Towson, with expertise that spans from gas line installation to replacement. When you think "gas plumber," we want you to think of us as your local lifeline. Ensuring every hiss, pop, or flame in your home is consistent and safe—that's our jam.
Spotting the Red Flags
Signs You Need Gas Line Repair ASAP
You ever stand in your kitchen, brewing that early morning coffee, and think you heard a faint hissing sound? No, it's not the coffee maker getting sassy. That sound near your gas stove or heater could be a subtle cry for help.
Hiss-hiss... who's there? That soft, nearly inaudible hiss isn't a snake in the grass. It could be a sign of a gas leak, especially if it's close to where your gas appliances are.
The ol' rotten egg trick: Nature's way of saying, "Hey buddy, something's not right here!" is by treating you to that distinctive sulfuric scent. If your home starts to smell like the aftermath of a bad egg prank, don't just wrinkle your nose; take action.
The garden mystery: Ever seen a patch of your backyard where plants just won't thrive, or they seem oddly discolored? It might not be your gardening skills (or lack thereof). The gas line below might be leaking and affecting the vegetation.
Gas bills giving you heart palpitations? If you've been cooking or heating the same amount but your gas bill has gone up a few notches, it's not just a cruel joke by the universe. It could be an undetected leak or issue in your gas line.
So, if you're noticing any of these signs, it's not just Lady Luck throwing you curveballs. Your gas line might be trying to tell you something. Listen up, and give a shout to a reliable gas line plumber in Towson, MD—like us.
Whether it's a new installation, a quick repair, or just some routine safety checks, our Gas Line Services have you and your home covered.
New Gas Line Installations
Moving to a new place or maybe adding a swanky outdoor grill? We're on hand to set up your gas lines. With safety and precision at the forefront, we'll ensure everything's connected perfectly for your peace of mind.
Smelling something funky? Maybe your burner's not catching as it should? Don't worry, we're the gas line gurus you need. We'll diagnose, repair, and ensure everything's safe and sound in no time.
Regular Check-ins & Maintenance
Gas lines aren't just about function; they're about safety too. With our regular maintenance services, we ensure your gas lines remain in pristine condition, catching potential issues before they become serious.
Why Towson Trusts Hardy Plumbing
You know that warm feeling of trust you get when you hand your precious car keys to your long-time mechanic, confident they won't mess it up? That's how Towson folks feel about us when it comes to their gas lines:
Rolling deep with experience: We aren't new kids on the block. We've been around the Towson block, alleyways, cul-de-sacs, and avenues for decades. And guess what? We've seen and tackled just about every gas line hiccup you could imagine during that time.
No games with safety: For real, when it comes to gas lines, playing it cool and taking risks is a straight-up no-no. Our pros treat your home like it's their grandma's. Safety goggles on, double-checking everything, and ensuring there's not a single chance of a mishap. We're not just about fixing problems; we're about making sure you, your fam, and your cute pet can snooze peacefully at night.
Like that 24/7 convenience store, but for your gas line needs: Rain or shine, day or night, if you've got a gas line emergency, guess who's popping up in their trusty van? Yep, Hardy Plumbing. Towson residents know they can lean on us, whether it's for a routine check or an "Oh snap, I think there's a problem!" moment.
Trust isn't just handed over; it's earned. And boy, have we put in the hours! So next time you're looking for a gas plumber in Towson, MD, remember who your neighbors are buzzing about. Hint: It's us.
Seal the Deal with Hardy Plumbing For Safe Gas Services
Don't leave things to chance, especially when it comes to gas lines. Give your home the Hardy Plumbing touch and sleep easy, knowing everything is in tip-top shape. Ready for a service that's both safe and stellar? Reach out at (443) 707-2969 now and let's get your gas lines humming perfectly.
Contact the plumber or plumbing company to schedule a service call. Be prepared to provide help about the problem.
Looking For A Local Plumber In Towson, MD Contact Us Now!