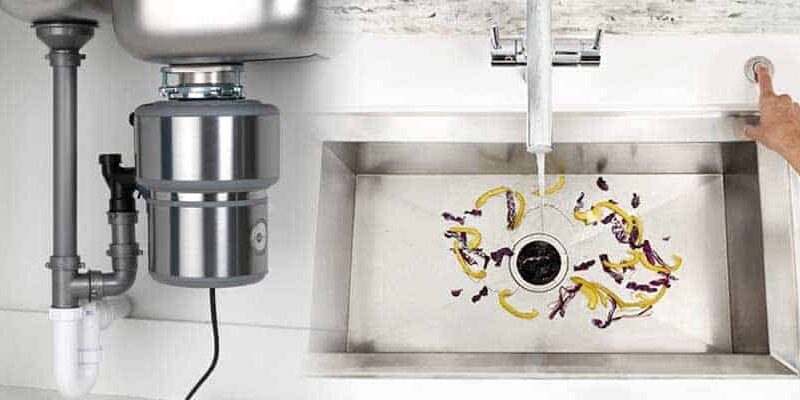 Garbage Disposal Replacement
in Towson, MD
Ever felt your heart sink when your garbage disposal goes silent? There you are, ready to tackle that next culinary masterpiece, only to find the disposal isn't working. Sounds familiar? We've all been there. Suddenly you're knee-deep in web searches on your phone, from 'garbage disposal repair near me' to frantic investigations about that leaking puddle right beneath your kitchen cabinet.
Perhaps you've even entertained the thought of going full DIY. You know, venturing into the realms of 'resetting garbage disposal' or boldly considering 'removing garbage disposal' entirely by yourself. But hold on. We both know that when it comes to tasks like 'garbage disposal plumbing' or 'installing a new garbage disposal', it's a maze out there.
Nothing beats the ease of a functioning disposal, effortlessly swallowing up kitchen scraps. So when your garbage disposal starts to become a handful, call Hardy Plumbing to give you seamless solutions!
Recognizing The Signs
When To Get Garbage Disposal Replacement or Repair
Sometimes the gadgets and gizmos in our homes become such an integral part of our routine that we hardly notice them - until they start acting up. Your trusty garbage disposal is no different. It's been there, grinding away the remnants of countless dinners and quick snacks. But lately, has it been trying to whisper (or maybe shout) that it needs a bit of attention?
The Drama Queen Performance: You switch it on, expecting the usual hum, but instead, there's a metallic concert fit for a rock arena. A screeching disposal isn't playing music; it's crying out for help.
"Is This Thing Even On?" Grind: Once the master of munching leftovers, now it takes an eternity to tackle even a tiny bit of lettuce. If it's lost its zest, you might need to address its zestiness.
"Eau de Leftovers" Fragrance: Tried everything from citrus to baking soda, and yet that stubborn stink lingers? It might be signaling deeper issues.
"Sorry, We're Full" Notices: Constant jamming up? Your disposal might be subtly hinting that it's time for a thorough check or an upgrade.
Good Ol' Reset Button Bonding Time: If you're poking at that reset button more frequently than you'd like, it's high time to decode what your disposal's really saying.
If any of this rings a bell, perhaps it's time to treat your kitchen buddy with some well-deserved care.
Choose Hardy Plumbing To Replace, Repair, Clean Garbage Disposals
You know how some things just click? Well, when it comes to the world of whirling garbage disposals, many in Towson reckon we're kinda like that perfect tune. Here's why:
Been There, Done That: Decades in Towson have given us our fair share of 'disposal dilemmas'. From mystery odors to those annoying jams, we've seen (and fixed) 'em all. Our hands-on experience? It's like your grandpa's stories - rich, diverse, and always relevant.
Our Towson Family Speaks: We don't really like to brag, so we let the stories of our Towson fam do the talking. From Mrs. Johnson's Thanksgiving save to Mr. Parker's last-minute party prep, our local testimonials are, well, pretty darn heartwarming.
The Hardy Plumbing Promise: No one likes surprises (well, except surprise parties). We ensure no hidden costs, speedy service, and always, ALWAYS putting the safety of your home and family at the forefront. After all, our name's on the line, and we wear it with pride.
With Hardy Plumbing, it's less of a service and more of a relationship. So, whether it's a quick fix or setting up a brand-new disposal, we've got your back (and sink!)
Toss Those Garbage Disposal Worries - Call Hardy Plumbing!
Every kitchen deserves a smooth, hassle-free garbage disposal system. Look forward to making meals in peace and enjoying them knowing fully well that your trusty garbage disposal will be humming along right after. Give Hardy Plumbing a call to book a garbage disposal service in Towson, MD today!
Contact the plumber or plumbing company to schedule a service call. Be prepared to provide help about the problem.
Looking For A Local Plumber In Towson, MD Contact Us Now!