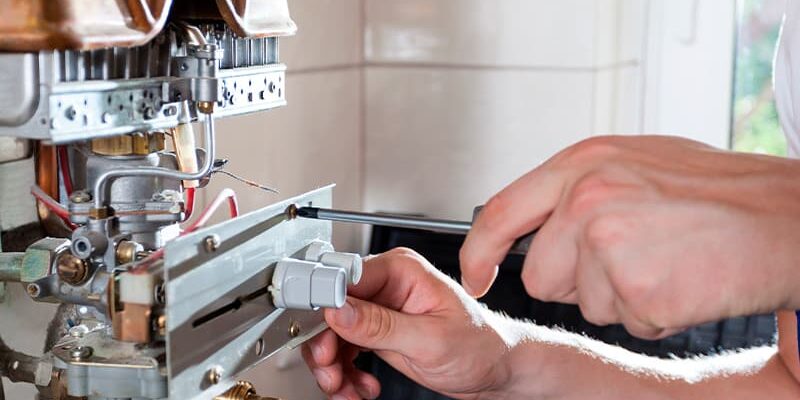 Tankless Water Heater Repair
in Towson, MD
Uninterrupted warmth at the twist of a tap—that's the assurance tankless water heaters bring to homes. In Towson, MD, residents have been quick to adopt the benefits of tankless systems. But like all technology, even these efficient units occasionally need attention to keep them running smoothly. Whether it's a minor glitch or a more extensive tune-up, it's crucial to have reliable experts on speed dial.
Instead of wading through endless search results or scouring Towson directories for 'tankless water heater repair,' let Hardy Plumbing simplify the process. As Towson MD's go-to for tankless water heater services, we're committed to ensuring your water stays warm and your worries stay small. Be it tankless water heater maintenance, repair, or just some advice on your unit, Hardy Plumbing is always one call away. Because a warm, comforting flow should be every Towson resident's daily norm.
Our Tankless Water Heater Services
You know those old-school bulky water tanks that eat up space? Yeah, those days are over! Dive into the future with our tankless technology where you get hot water whenever you want, and it's all wrapped up in a sleek design that's a perfect fit for your home.
Tankless Water Heater Installation
Thinking about making the switch to something more energy-efficient and, let's face it, way cooler? That's where we shine! Our crew is all about setting you up with tankless water heaters that not only give you non-stop hot water but also keep those energy bills in check.
Tankless Water Heater Repair
Hitting a snag with your instant hot water? No stress. We're on it! Our team is quick to spot and fix whatever's keeping your tankless system from doing its thing.
Tankless Water Heater Maintenance
Want to get the most out of your tankless heater? It's all about that TLC. We've got a stellar maintenance plan that covers everything from regular check-ups to a little sprucing up, ensuring your tankless system is always at its best.
Signs You Need Tankless Water Heater Repair
But even the slickest tankless systems can have their off days. Let's chat about some of those quirky moments:
The Hot-and-Cold Tango: It's like your water's trying to do the cha-cha. One moment it's piping hot, and the next, it's giving you chills. That unpredictable dance between scalding and freezing can be quite an unwelcome surprise.
Ghosting Heaters: Just like that one date that never called back, sometimes tankless heaters ghost us. They're working perfectly fine, and then – poof! – they shut down without a warning. Not the kind of suspense we're looking for, right?
The Sneaky Mineral Build-Up: Picture your tankless heater as a coffee maker. Over time, just like coffee machines get that chalky build-up, tankless systems can get clogged by minerals. And, unfortunately, they don't come with a 'clean' button. This sneaky mineral build-up can make them act sluggish and inefficient.
Tech Talk - Those Baffling Error Messages: When your tankless starts flashing codes and messages, it feels a bit like it's trying to communicate in an alien language. Error messages on digital displays can be perplexing, making you wish there was a tankless-to-human translator.
So yeah, while tankless systems are the bee's knees, they have their moments. But hey, when those hiccups happen, just remember – you've got friends in the repair biz ready to help!
Is Your Tankless Heater Testing Your Patience? Hardy Plumbing Can Help!
There's a reason we adore our tankless systems—until they throw us a curveball. Those sudden cold shocks and confusing error codes can surely disrupt your comfort. The silver lining? With Hardy Plumbing by your side, these challenges become mere pit stops.
Our team at Hardy Plumbing has mastered the art of tankless repair. From tackling mineral build-ups to resolving unexpected shutdowns, we're Towson's trusted partner in ensuring uninterrupted warmth.
So don't let a quirky tankless moment ruin your day's vibe. Reach out to us at (443) 707-2969, and let's get that heat flowing seamlessly again.
Contact the plumber or plumbing company to schedule a service call. Be prepared to provide help about the problem.
Looking For A Local Plumber In Towson, MD Contact Us Now!